Worcester Palladium Information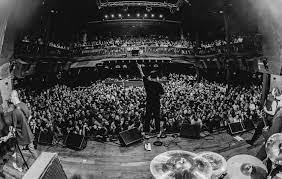 Worcester Palladium is an all-ages concert hall located in Worcester, Massachusetts. It was originally designed and opened as a theatre in 1928 and was known as the Plymouth Theatre. Today, it still maintains that identity and has a seating capacity of over 2,000 visitors in the Main Room and 500 in the upstairs room. And it quickly became famous as a venue for rock and metal bands.
Famous Bands That Played at Worcester Palladium
Since 1990, the booking agency MassConcerts has handled booking for the venue. And this has led to an incredible selection of performers. These include the following bands, musicians, and artists:
Blink-182, Bring Me The Horizon, Chelsea Grin, Ensiferum, Evanescence, Fall Out Boy, Four Year Strong, Gov't Mule, Gwar, Hatebreed, Ice Nine Kills, Jerry Garcia Band, Jimmy Eat World, Kanye West, King Diamond, Korn, Logic, Motionless in White, My Chemical Romance, Nightwish, Of Mice & Men, Palaye Royale, Periphery, Protest the Hero, Rammstein, Reveille, Rob Zombie, Senses Fail, Slayer, Sonata Arctica, Soundgarden, Straight Line Stitch, Suicide Silence, Twelve Foot Ninja, Twenty One Pilots, Tyler The Creator, Whitechapel, Wiz Khalifa, and Years Since the Storm.
And the venue was also used for a live concert DVD by The Devil Wears Prada titled Dead & Alive that was filmed at the Palladium on December 14, 2011.
More Worcester Palladium information:
Ticket Policy:
Read about our recommended ticket marketplaces policies and authenticity guarantee.
Seating Map:
View the Worcester Palladium seating map and learn about various seating sections.
Parking Information:
Read information about the Worcester Palladium parking availability.