Worcester Palladium Seating Chart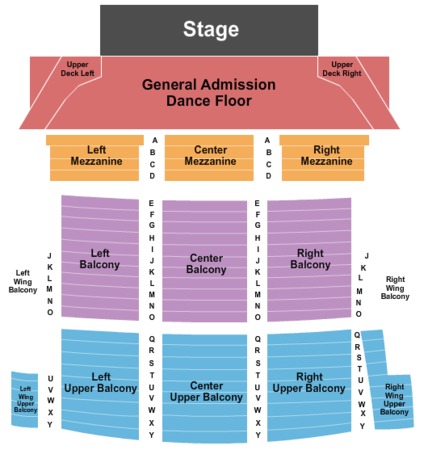 Worcester Palladium is a multi-tiered venue that often has a general admission floor space that's used for dancing and reserved seating as indicated in the seating chart. Some events may have different arrangements depending on the needs of the visiting performer.
The Palladium offers excellent seating in three different areas, each with its own unique charm. The seating is designed to offer the best possible viewing experience with clear sightlines and crisp sounds and clear lighting.
No matter where you choose to sit in the Worcester Palladium, the concert hall promises to provide an incredible, one-of-a-kind experience. Any seat is bound to produce an electric atmosphere, intense emotions and fantastic music.
---
General Admission Pit
The Worcester Palladium is famous for it's general admission pit. This is where the action happens. Fans are literally at the front of the action! Feel the rush of the crowd, where you can sing and dance along to your performers favorite tunes. This is where you get up close and personal with the performers and are sure to have a truly unforgettable experience!
Main Hall
The main hall offers two levels of seating and a grand view of the stage. Fans can get as close as possible to their favorite artists whilst still being seated. Enjoy the thrilling atmosphere of the main hall!
The Main Hall has a seating capacity of 2,160.
Upper Deck Balcony
The Upper Balcony area is a great unique and exciting part of the venue. The balcony offers a perfect view of the stage and a more relaxed atmosphere than the main hall. Relish in the wonderful energy of the show while you and your friends rock out with a superior elevated view.
The Upper Balcony offers a limited seating capacity of 500.
Accessible Seating
There are Worcester Palladium accessible seating options available that ensure everyone can enjoy the show. Accessible seating is available in the Floor Orchestra, Loge Balcony and Balcony areas. Both wheelchairs and scooters can be accommodated.
All accessible seats are clearly indicated with a wheelchair icon and located close to an accessible restroom. Accessible seating can be purchased in advance or on the day of the show at the venue box office.
If you require ADA-assistance for your visit, please call the venue at  (508) 797 – 9696.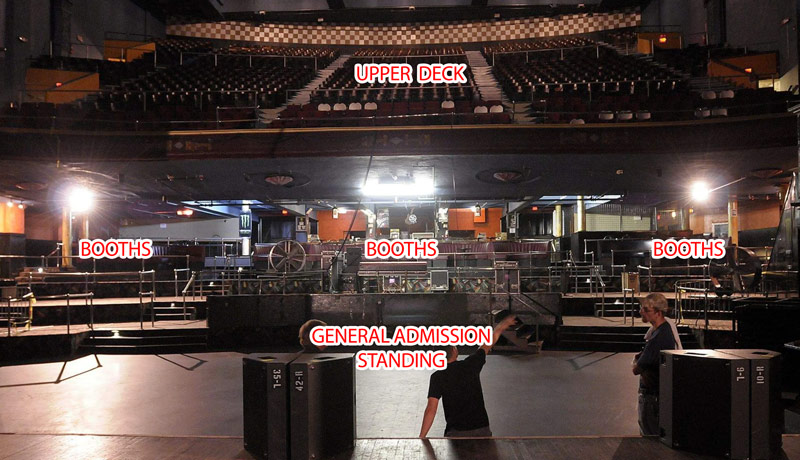 ---
NOTE: The Worcester Palladium seating chart may vary depending on the type of events. Some events offer unique or varied seating arrangements. Always check the individual event seating map when choosing your tickets.
Start securing your desired tickets today by beginning to select your seats . Check out the Worcester Palladium schedule to see all the upcoming schedule and latest events.
Click here ticket information page to read about ticket policies and guarantees.