Worcester Palladium Information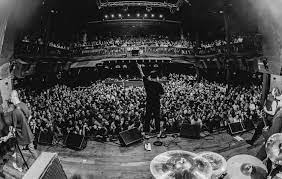 Worcester Palladium is an all-ages concert hall located in Worcester, Massachusetts. It was originally designed and opened as a theatre in 1928 and was known as the Plymouth Theatre. Today, it still maintains that identity and has a seating capacity of over 2,000 visitors in the Main Room and 500 in the upstairs room. And it quickly became famous as a venue for rock and metal bands.
---
The history of the Worcester Palladium
The well known music venue and concert hall has had a long and illustrious history, having served as a popular concert hall for more than a century. Since its opening in 1910, the Worcester Palladium has hosted some of the greatest concert talents from across the nation. From Rock 'n' Roll to Jazz, Blues, and everything in between, this beloved live music entertainment venue has seen it all.
The Palladium's iconic history began in 1910 when the venue opened as a silent movie theater called "The Emerson". After five years operating as a successful movie theater, the name was changed to the "Garden Theater". From here on it offered vaudeville acts, concerts, and even opera! During the 1930s, the Worcester Palladium became a popular destination for swing bands and Jazz music! From then on it, the venue was known as a bastion of live music. It hosted the likes of Benny Goodman, Ella Fitzgerald, Erroll Garner, and Count Basie.
In the 1950s and '60s, the Palladium became the go-to place for Rock 'n' Roll. Acts like Chuck Berry, Bo Diddley, and Little Richard all rocked the stage and were supported by local bands and rising stars of the music world. After shifting focus in the '80s, the Palladium came back into prominence in the '90s with Punk, Indie Rock, and alternative acts. It was THE breeding ground for legendary pioneering artists such as The Dismemberment Plan, NoFX, and Rancid, who defined the American Punk sound of that era.
Today, the Worcester Palladium continues to serve as an important hub for emerging and established live music bands and rising talent. Sell out performances have become a staple of this concert halls brilliant musical history, as fans can look forward to an eclectic range of musical styles and talents. It offers a chance to experience some of the best live music to be found in Massachusetts, creating memories that will last a lifetime!
Famous Bands That Played at Worcester Palladium
Since 1990, the booking agency MassConcerts has handled booking for the venue. And this has led to an incredible selection of performers. These include the following bands, musicians, and artists:
Blink-182, Bring Me The Horizon, Chelsea Grin, Ensiferum, Evanescence, Fall Out Boy, Four Year Strong, Gov't Mule, Gwar, Hatebreed, Ice Nine Kills, Jerry Garcia Band, Jimmy Eat World, Kanye West, King Diamond, Korn, Logic, Motionless in White, My Chemical Romance, Nightwish, Of Mice & Men, Palaye Royale, Periphery, Protest the Hero, Rammstein, Reveille, Rob Zombie, Senses Fail, Slayer, Sonata Arctica, Soundgarden, Straight Line Stitch, Suicide Silence, Twelve Foot Ninja, Twenty One Pilots, Tyler The Creator, Whitechapel, Wiz Khalifa, and Years Since the Storm.
And the venue was also used for a live concert DVD by The Devil Wears Prada titled Dead & Alive that was filmed at the Palladium on December 14, 2011.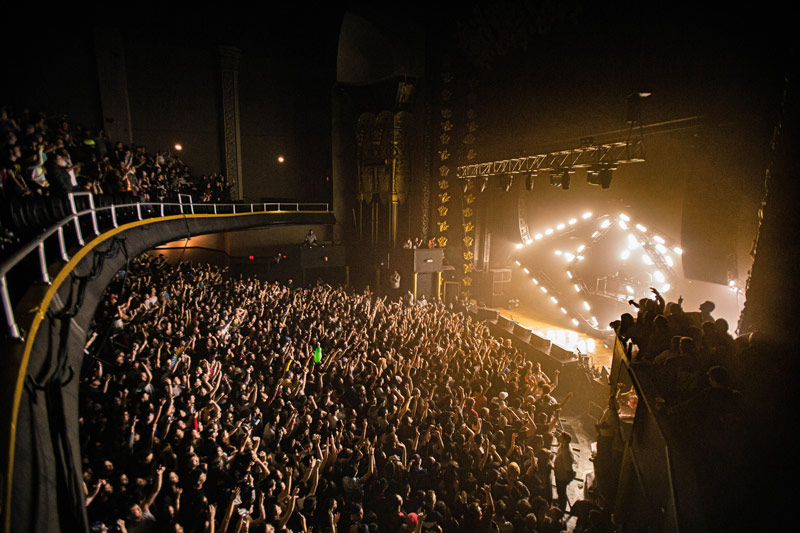 More Worcester Palladium information:
Ticket Policy:
Read about our recommended ticket marketplaces policies and authenticity guarantee.
Seating Map:
View the Worcester Palladium seating map and learn about various seating sections.
Parking Information:
Read information about the Worcester Palladium parking availability.