Worcester Palladium | Worcester, Massachusetts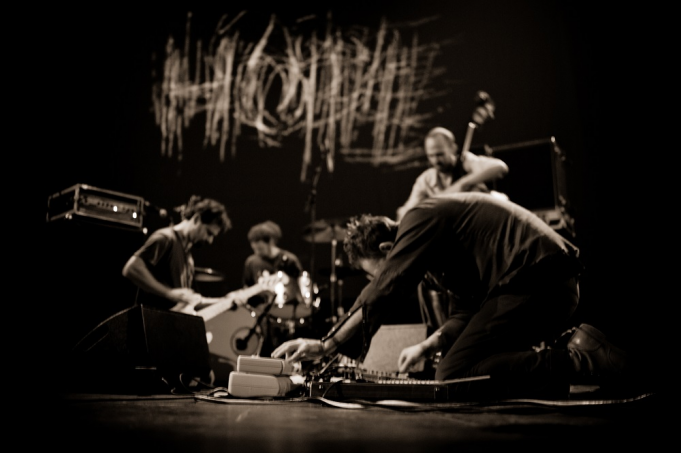 Alright, music peeps of Massachussetts! Hold onto your indie rock hearts because the legendary, avant-garde maestros, Godspeed You! Black Emperor, are touching down in OUR hood! Clear your calendars for September 10, 2023 because this is ONE concert you CANNOT afford to miss, trust me!
Our beloved Worcester Palladium will be THROBBING with the earthy, pulsating soundscape unique only to Godspeed You! Black Emperor's genre-defying symphonies. This tour is shaping up to be the most mind-blowing journey of post-rock renaissance, so don't sleep on getting your ticket!
Have you ever dreamt of losing yourself in the intoxicating swirl of "Storm" or floating through the apocalyptic ambience of "Mladic"? Well, DREAM NO MORE! This concert is your one-way ticket to an ephemeral sonic paradise that will for sure give you all the 'feels'. It's more than just a show; it's an odyssey, a pilgrimage through the spaces of your mind untouched by ordinary jams.
Get your freak on, let your hair down, and even cry a little as this rad Canadian collective takes the 'stagecraft' to a whole new level with their famously mesmerising live performances. The Godspeed show is not a gig, it's an experience, a vibe, an immersion into realms of sound that will blow.your.mind!
Grab your TICKETS peeps! Because, let's be real, this is the kind of concert you'll be telling your digitally-conceived, cyborg grandkids about!
YA HEARD IT HERE FIRST, kids! The unstoppable, inimitable, all-encompassing sonic juggernaut of Godspeed You! Black Emperor, better known as GY!BE to us in the know, is bolting through Worcester. Their earth-shakingly epic tour is making a pit stop at the iconic Worcester Palladium on September 10, 2023. TICKETS dropping like hot vinyls, people!
Believe the hype. This ain't your cookie-cutter, mass-produced, mainstream puffery. Lush, layered soundscapes! Understated intensity! Drop-kick-your-heart emotion! These Canadian musical savants are a flippin' Post-Rock PIONEERS, cobbling together colossal orchestral tapestries that'll rattle your soul. Their shows? A life-altering TOUR de force.
GRIT. PASSION. REVOLUTION. Words can't even TOUCH what a GY!BE CONCERT feels like. Stormy guitars. Brooding violins. This is rapture. Catatonia. Chaotic beauty that'll leave you FEELING things, man. Hardcore things. And the visuals? Avant-garde film projections as the backdrop to this surreal sonnet, painting your dreams in 35mm. Every melody a new rabbit hole. Every beat a love letter to the raw beauty of existence.
Enough buzz? NO WAY. Ever heard of a lil' Juno Award? Canada's creme de la creme music award? Yeah, they've got that in spades. And the pulse-pounding live shows? Don't waste your breath asking. Just BE there.
Oh, and the venue. THE WORCESTER PALLADIUM, dudes and dudettes! A cornerstone of the Worcester 'scape since the Roaring Twenties. A haunt for the phantoms of rock n' roll. A stage graced by the legends: Dylan, Jovi, Zeppelin. Why, the sheer ECLECTIC history soaking the walls could send tremors through any concert-loving spine. And now housing GY!BE? Shivers, meeting spines.
Love intricacies? The Palladium's got 'em. Breezy bars. Ample space. Crazy acoustics. Intimate balcony seating. Dig wheelchair accessibility? Check. Breathing in the nostalgic aroma of gigs gone by while the stratospheric symphony of GY!BE surrounds you? Double check, with glittery stars on it.
This ain't your couch concert saga, folks. This is a PILGRIMAGE. To the kingdom of sound, vision, and pure, unadulterated vibe.
This is the call to snag your golden TICKET to an unfathomable CONCERT. This is the signal to be a speck of stardust in the grand cosmos of GY!BE. Jump on the wild TOUR, and get swept away by the godspeed wave.
Grab your TICKETS, MUSIC MAVENS. Bask in the beatific chaos. Lose yourself, find your soul, and rock 'n' roll. What are you waiting for? Get 'em while they're HOT and AVAILABLE. Your senses will thank you!